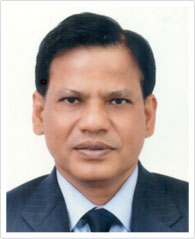 H.E. Mr. MD. NAZMUL QUAUNINE
Mr. Md. Nazmul Quaunine is a career foreign service officer of the Bangladesh Civil Service (BCS) Foreign Affairs cadre of 1985 batch. He graduated from the Dhaka Medical College, University of Dhaka. After joining the Bangladesh Foreign Service, Mr. Quaunine had undertaken professional trainings at the Bangladesh Foreign Service Academy, Bangladesh Public Administration Training Centre and post graduate training on Diplomatic Studies at the Graduate Institute of International Studies in Geneva, Switzerland as well as Executive Training Course at the Near East South Asia Center for Strategic Studies, Washington D.C.
Mr. Md. Nazmul Quaunine took up his assignment as the High Commissioner of the People's Republic of Bangladesh to the United Kingdom on 28 October 2016. Mr. Quaunine had earlier served as the Ambassador of Bangladesh to Indonesia from February 2013 to October 2016 and was concurrently accredited as non-resident Ambassador to Timor-Leste and High Commissioner to the Papua New Guinea. He was also the first concurrently accredited Ambassador of Bangladesh to the Association of the South East Asian Nations (ASEAN).
Prior to Indonesia, Mr. Quaunine was the Ambassador of Bangladesh to the United Arab Emirates from July 2008 to February 2013.
In his diplomatic career, Mr Quaunine had served as the Director General in charge of the Europe and EU Wing and also External Publicity Wing in the Ministry of Foreign Affairs in Dhaka from June 2006 to June 2008. Earlier he had also served as the Deputy High Commissioner in the Bangladesh High Commission in London, United Kingdom and Bangladesh High Commission in Islamabad, Pakistan, Counsellor in the Bangladesh Embassy in Washington, D.C. and Bangladesh Deputy High Commission in Kolkata and First Secretary in the Permanent Mission of Bangladesh to the UN Offices and other International Organisations in Geneva. Mr. Quaunine has represented Bangladesh in many international conferences at home and abroad.
Mr. Quaunine is married to Syeda Mustari Rahman and father of a son and a daughter.